Pekka airaksinen - madam i'm adam
Vaasankadun myymälä on suljettu ja se muuttaa Hakaniemen Äxän yläkerran tiloihin perjantaina . Jos sinulla on noutamattomia varauksia niin ne löytyypi nyt Hakaniemen myymälästä.
Where on Earth do I begin with this lengthy monstrosity? For a start you would think he'd have put a bit more effort into the cover eh?. It doesn't exactly jump out with fangs screaming, 'BUY ME!' does it? 'Madam I'm Adam' is a good place to begin for the more open minded listeners willing to take a dive into the crazy world of Pekka Airaksinnien and his earlier Finnish band 'The Sperm'. It's a compilation encompassing works from 1968-2002. And let it be said right now - this is no easy listen. Mental blooping keyboard cords fire away without rhyme or reason throughout the first track from '83'. It's all instrumental yet very disorientating. None of it makes any sense. Particularly when the drum patches kick in. That's not to say that they're bad, they are in fact pretty good as far as 1983 goes. There's such a dichotomy in sound that I'm left cross-eyed at the end. 'A Little Soup for Piano and Orchestra' from 1970 has a load of looped reversed sequences which sound uncannily 'Zoviet France' -like from 15 years later. There's a whole bunch of queer sounds on display here. Wobbly sick guitars, tape manipulations and almost ritualistic percussion are played intuitively. There's a terrifying amplified wire object stroked at high volume with something metal which is utterly indescribable. It's enough to give your worst enemy nightmares. We then leap to 2002 with 'No Focus' which sounds altogether more cohesive due to the off-kilter drum machine. There's also some electronically looped strings played here, but it remains one of the poorer tracks on this compilation. The experimental free-form rock continues with 83's 'Suvarnabhasagarbha'. (Honestly, these titles are torture). There's a tune desperately trying to break free here but it's frustratingly shackled to the bass for some reason. Only a queazy , loud synth with stabbing cords reaches the forefront - and it's too tuneless to redeem this track. The earlier tunes seem to work better despite being understandably inferior in recording quality. They're more abrasive and carved from a rougher hew. They also carry more menace. There's a serious juxtaposition on 'Madam I'm Adam' that somehow manages to remain engaging despite the varied technology and instruments used throughout the 34 years on display, The hefty 19 minute 'Dodekafoninen Talvisota' from '69 is very 'Electronic Meditation' era 'Tangerine Dream' minus the electronics. Rapid finger strumming over tuneless guitar strings plays centre stage as an African Djembe under arm bongo thumps away in the background. It's all very much of its time but still listenable today. Just... The second disc is basically a waste of time. Here the ball was dropped and picked up by various artists trying to add their own variations to the Airaksinnen sound. It doesn't work, with the exception of 'Nurse With Wound's' re-make of 'No Focus'. The man himself plays a few tunes which are good enough but he's drowned in a sea of mediocrity. Thankfully the first disc is 78 minutes long so I'm more than willing to overlook this failure. I don't know what to make of this album at all. It's all I've heard by 'Airaksinnen' and it sounds disjointed and fractured beyond repair. But it holds a certain dignity, craft and presence of mind that can't lower my rating below three stars. One thing's for sure... It's unique. Dobermensch | 3 /5 | 2015-8-20 MEMBERS LOGIN ZONE As a registered member ( register here if not), you can post rating/reviews (& edit later), comments reviews and submit new albums.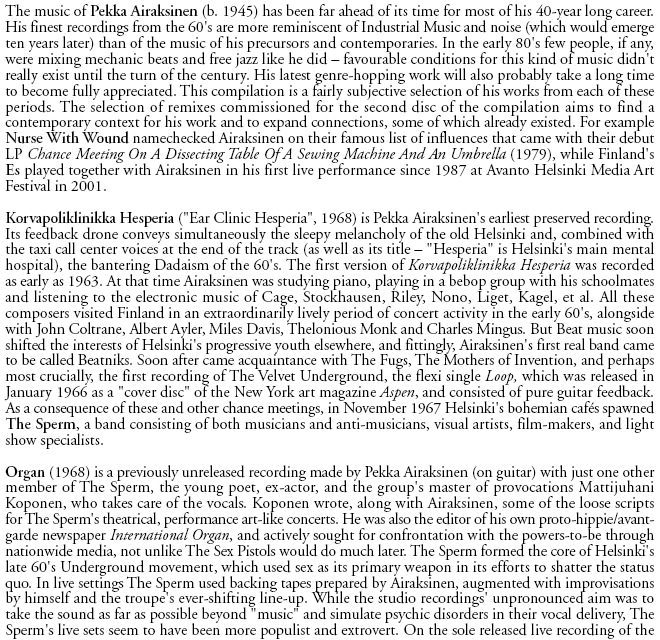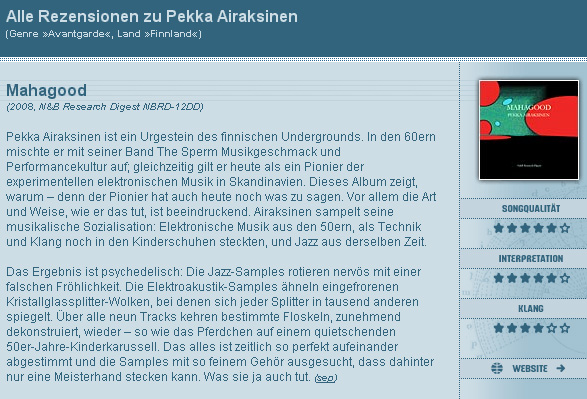 gy.villageventures.info